Your custom logo design is the single most crucial piece representing your company and brand on a worldwide scale. It's on your company cards, letterhead, and front door, as well as your website and other digital platforms. Your own logo design could be used on company cars, clothing, promotional materials, and signs, among other things.
Of course, your logo is prominently displayed on your website as well as other digital channels.
When establishing your own logo design, it's critical to consider how and where you'll use it. It's even more crucial to make sure you have the right strategy and digital file types so that your custom logo design may be changed for use wherever you need it.
Many companies in the business are making the wise decision to hire professional logo designers. They assist brands in a variety of ways and branding initiatives. As a result, they get a competitive advantage and stand out in the market they dominate. Thus, it's critical to hire the correct digital marketing agency in today's current digital environment.
User experience (UX) and branding are essential considerations in today's custom logo design guidelines. This means your logo should be simple, easy to read, and, most importantly, easy to recognize as your company's logo.
A Digital Marketing Strategy Boosts with the Help Custom Logo Design
In small spaces, too much detail, picky fonts, or too many colors create a jumbled mess. In the blink of an eye, your prospects will form an opinion of you. As a result, they will not have the time (or interest) to sort through the nuances of a cluttered or sophisticated logo.
Take a look at some of today's most well-known brands, such as Apple, Nike, and Microsoft. By looking at how simple, recognizable, and timeless these custom logo ideas are, you'll get the idea.
To maintain your logo design looking new, you should choose a flat style. Drop shadows, shading, gradients, and other three-dimensional components detract from the message's importance. It should look as good in black and white as it does in color.
A custom logo with a graphical icon (symbol) and text for the company name is used by most firms. These two components must work well together, but they must also be able to stand alone. Furthermore, your graphic sign should be able to function as an icon.
Website Logo Design Considerations
Consider two well-known brands: Pepsi and the United States Postal Service. Although both firms have a custom logo, most of us would know them based on their iconography alone. The entire logo can be used horizontally on most website homepages, which usually is preferable. The graphic element, on the other hand, can be used as a favicon on its own. Pepsi's packaging incorporates both characteristics in various combinations.
To work successfully on your website, your logo design should be as versatile as possible. This involves constructing numerous variations of your custom logo design so that you (and your web designer, graphic designer, sign business, printer, and so on) may use the most appropriate version in each case. This includes a version that can be used vertically as well as in a square arrangement.
Custom Logo Designs for Directories and Related Digital Platforms
Your custom logo design must be adaptable to several types of web marketing. Your logo should appear prominently on social media profiles, cover images, directory entries, and email signature blocks, to mention a few places.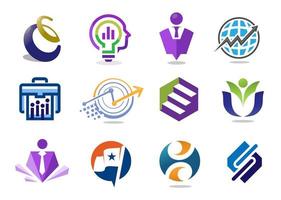 For the bulk of these applications, your logo design must effectively scale to a tiny electronic form. It must also be changed to fit the aspect ratio required by social networking and directory services want.
It aids in the development of corporate identity and trust.
A well-designed logo may help create your brand's corporate identity in the eyes of potential buyers and audiences in any digital marketing effort. Most big firms and corporations have built their brand identities around unique and appealing logos, which they display to the public through a combination of traditional and digital marketing techniques.
The more you display your logo to the public through various marketing campaigns, the more your market trust and brand identity will become. As a result, you'll get more leads and sales, which means more money in your pocket.
Increased Brand Recognition
A well-designed bespoke logo boosts a company's or brand's visibility in both home and foreign markets. Through digital marketing, you may expose your brand to a larger audience by including your logo throughout all of your marketing efforts. As a result, most branding firms encourage their clients to use their logos in advertising campaigns to increase brand awareness without spending additional money.
Boosts Brand Loyalty
In addition to improving firm identity and exposure, an appealingly designed corporate logo may be an excellent tool for establishing brand loyalty. It sounds like something your consumers will mentally and physically cling to whenever they go shopping at the market.
To develop trust and loyalty while also enticing new customers, you can put your company logo on promotional things like keychains, tees, and pens and distribute them to existing and potential customers. It may also be used to make eye-catching coupons and vouchers to promote your business online.
Get started right away.
These are the fundamental beliefs concerning the significance of a logo in a digital marketing plan. Brands use cutting-edge techniques to stand out from the crowd and win market share by maintaining top-of-mind memory. Contact DesignHours if you have any questions. You can reach out to us at info@designhours.com or through our social media platforms @designhours, and we'll respond as quickly as possible.